Alright, just a week after moving in we've received our belongings from Berlin. So now the move really is completed. Okay, we still have to unpack 22 boxes, set up all the technical pleasantries and find room for everything … but this shouldn't take too long. And then we're all set.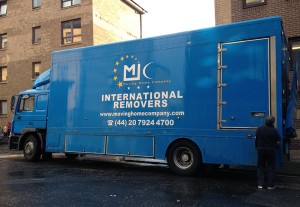 Nicht schlecht, nur eine Woche nach unserem Einzug haben wir schon all unsere Sachen aus Berlin erhalten. Einen Tag früher als geplant hat die Umzugsfirma alles abgeliefert. Damit ist der Umzug nun wirklich abgeschlossen.
Okay, wir müssen erst mal noch 22 Kisten auspacken und alle technischen Leckereien aufbauen und anschließen … aber das sollte nicht zu lange dauern. Dann sind wir endlich fertig.