Last week our first visitors in Edinburgh delighted us with their stay. Max' sister Jenny came by along with her little sunshine Ida and good friend Melli. We had a fun time showing them around Edinburgh, walking thru Old and New Town, conquering Holyrood Park and definitely eating way too much.
Monday and Tuesday we took all three girls on a trip to the Isle of Arran. An island in the Firth of Clyde, just between Ayrshire and Kintyre (for those interested in geography).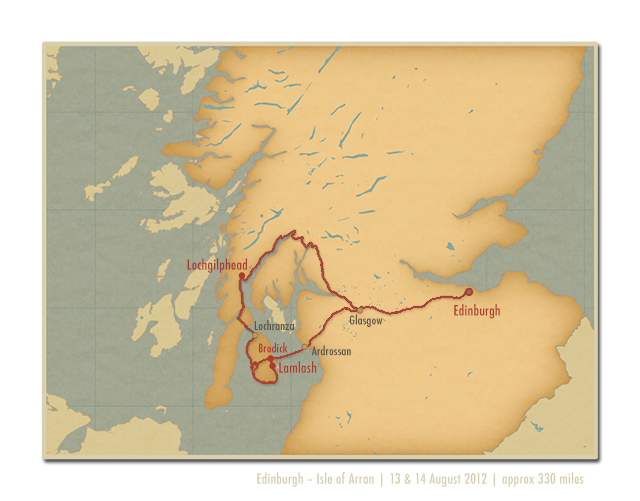 We had some great times with ferry crossings, single track road fun, cow pinching, shore walking, forest walking and stone circle gaz… well, it wasn't really a stone circle.
Nevertheless the island (which neither Max nor me had visited before) turned out quite beautiful. Blossoming in green, yellow and various shades of lilac. Some of us even managed to get a tiny sunburn.
But enough of that! Scroll down to enjoy some of the pictures we took.
---
Vergangene Woche hatten wir die ersten Besucher in Edinburgh. Max' Schwester Jenny kam zusammen mit ihrer kleinen Tochter Ida und ihrer guten Freundin Melli. Wir hatten viel Spaß, zeigten ihnen die Stadt, erkundeten Old Town und New Town, eroberten Holyrood Park und haben viel zu viel gegessen.
Montag und Dienstag haben wir die drei Mädels dann auf eine kleine Spritztour entführt: nach Arran. Eine Insel im Firth of Clyde, zwischen Ayrshire und Kintyre gelegen (für alle Geografie-interessierten).
Wir hatten eine großartige Zeit mit Fährüberquerungen, typischen Schottischen einspurigen Landstraßen, Kühe-in-die-Nase-Zwicken, Küstenspaziergängen, Waldspaziergängen und Steinkreis-Bewun… na ja, es war nicht wirklich ein Steinkreis.
Auf jeden Fall hat sich die Insel (die weder Max noch ich vorher besucht hatten) als ziemlich hübsch herausgestellt. Alles Blüte grün, gelb und vielen Lila-Tönen. Einige von uns konnten sogar einen ganz kleinen Sonnenbrand erhaschen.
Aber genug erzählt, hier kommen ein paar Fotos: