Time for another visitor from Germany around the end of August: My mom came to Britain for the very first time in her life. After overwhelming her with Edinburgh during the week it was the weekend that should provide her with lasting impressions of the highlands.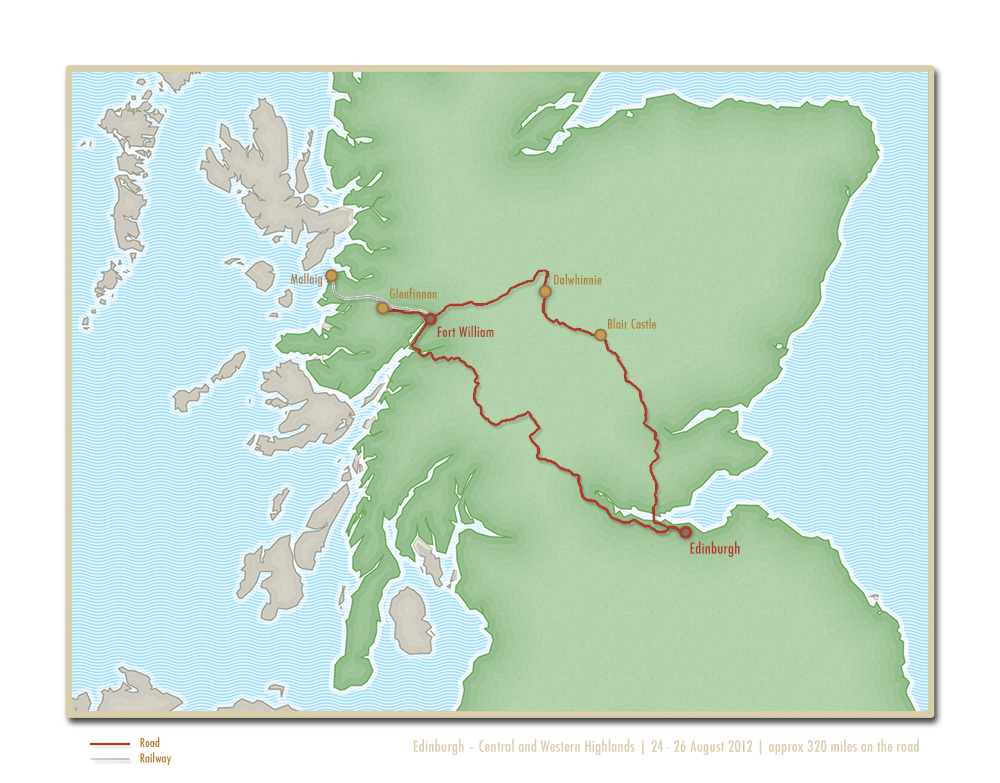 Off we were, driving through the central highlands, stopping at a whisky distillery (Dalwhinnie), heading for Fort William. We used the town as our base to explore the immediate surroundings such as Glenfinnan, Loch Shiel and Glen Coe. As a little surprise we took my mom on a train journey with the Jacobite steam train.
We had a lot of fun and a nice variety of rather typical weather in the highlands – from bug-sized raindrops to sunbaths at the shores of the loch.
Oh yes… and the midge bites were still bugging us weeks after we returned to Edinburgh.
---
Ende August war es mal wieder an der Zeit für Besuch aus Deutschland: meine Mutter hat die Britischen Inseln zum ersten Mal in ihrem Leben besucht. Nachdem wir sie die ersten Tage mit Edinburgh beeindrucken konnten, sollte das Wochenende bleibe Eindrücke aus den Highlands bescheren.
Quer durchs Hochland, mit kurzen Stopps bei einer (immer noch bewohnten) Burg und an einer Destillerie (Dalwhinnie), ging es nach Fort William. Die größte Stadt in den Highlands, aber nicht unbedingt die schickste. Wir nutzen die gute Lage als Ausgangspunkt für Ausflüge in die unmittelbare Umgebung: Glenfinnan, Loch Shiel und Glen Coe standen auf der Liste. Als kleine Überraschung haben wir meine Mutter dann noch mit auf eine Zugfahrt im berühmten "Jacobite" genommen.
Wir hatten sehr sehr viel Spaß und konnten auch eine breite Auswahl des typischen Wetters erleben – von fetten Regentropfen bis zu Sonnenbädern am See.
Ach ja, und die blöden Midge-Bisse haben uns noch Wochen nach der Rückkehr in Edinburgh zu schaffen gemacht.