Early October (I just started my new job!), and probably the last visit from Germany this year: My Dad came by with his wife Dagmar. Just a few days but still we wanted to do a nice little trip. Didn't take too long for us the decide where to go after Tobias and Rike visited earlier in September and showed us some nice pictures from their trip to Royal Deeside and Dunnottar Castle on the east coast.
And since neither Max nor I had been there before …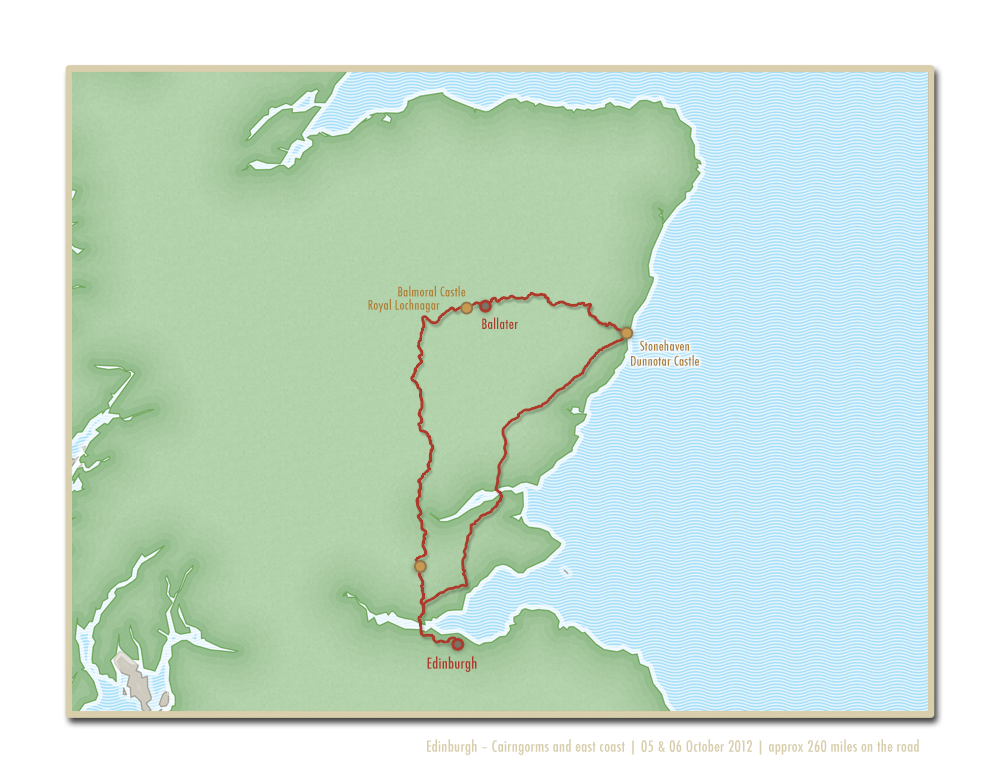 The first stop though was Loch Leven in Perth and Kinross with it's pretty cool Castle Island in the middle of the loch where Mary Stuart once had been held prisoner for about a year.
Then we drove on into the Cairngorms National Park, enjoyed colourful autumn forests and southernly Highlands. The little village of Ballater was the base for our one night stop. This turned out to be a really good choice – we actually saw The Queen just a few yards from our B&B!! No fuss, no police, no screaming masses. Just us and two Range Rover, in the first of which Elizabeth II was being chauffeured to visit her guards (they are being stationed in Ballater during the Queen's stay in Balmoral Castle which is just 8 miles away).
We all turned a bit crazy after that incident. So after visiting the Royal Lochnagar Distillery the next morning we even managed to find a nice viewpoint to take a peak at Balmoral Castle.
After that we were off to Stonehaven and Dunnottar Castle. The castle itself lies upon a tiny peninsula just off the coast, connected by a small strip of land only. Pretty amazing sight.
Time for pictures? Scroll down!
---
Anfang Oktober (ich gerade mit meinem neuen Job angefangen!) stellte sich bei uns der wohl letzte Besuch in diesem Jahr ein: Mein Paps und Dagmar kamen vorbei. Wenn auch nur für wenige Tage, so wollten wir natürlich trotzdem einen schicken kleinen Ausflug unternehmen. Tobias und Rike haben im September nach ihrem Ausflug zum Dunnottar mit einigen Fotos schon reges Interesse hier geweckt, insofern kam die Entscheidung 'wohin?' recht schnell.
Schicke Burg, tolle Landschaft, Ostküste und weder Max noch ich waren vorher schon dort …
Der erste Halt sollte uns aber erstmal zum Loch Leven Castle bringen. Eine Burgruine auf einer kleinen Insel mitten im Loch. Mary Stuart verbrachte hier mal ein gutes Jahr in Gefangenschaft (oder wohl eher 'Hausarrest').
Von dort aus ging es dann direkt in den Cairngorms Nationalpark: herbstlich bunte Mischwälder und die südlichen Ausläufer der Highlands. Das kleine, ziemlich schicke Dorf Ballater war unsere Station für eine Übernachtung. Wie sich herausstellte eine sehr gute Wahl – auf dem Weg zum Abendessen haben wir doch tatsächlich die Queen getroffen! Nur ein paar Meter von unserem B&B entfernt, ganz entspannt, ohne Polzei, ohne Absperrungen, ohne schreiende Massen. Nur wir und zwei schöne Range Rover, in dem einem kam die Queen an, um ihre in Ballater stationierte Garde zu verabschieden.
Nach diesem krassen Erlebnis sind wir alle etwas durchgedreht und haben am nächsten Vormittag, nach dem Besuch der Royal Lochnagar Distillery, zum Glück noch einen tollen Aussichtspunkt mit Blick auf Balmoral Castle gefunden (Sommersitz der Queen, für alle uneingeweihten).
Wir konnten uns losreißen und sind dann weiter an die Ostküste gefahren, nach Stonehaven und natürlich zum besagten Dunnottar Castle. Die Burgruine liegt auf einer kleinen Halbinsel direkt vor der Küste. Sehr dramatisch und schön anzuschauen.
… und damit: auf zu den Fotos: